Rainbow Queen Mural
17 Feb 2017
Have you seen our beautiful Rainbow Queen mural?
The talented Mimby Jones Robinson Art brought to life to our external Target wall as part of the Adelaide Fringe Street Art Explosion project in 2017.
This large-scale Rainbow Queen artwork commissioned by the City of Playford was Mimby's largest work to date and is an incredible beauty!
Why not take a selfie of yourself standing next to this fabulous piece of art? 
Check out the video and photos below to see the Street Art Explosion project come to life at Elizabeth City Centre.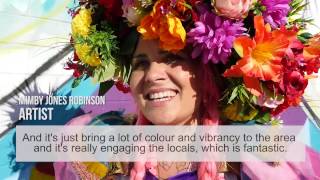 WANT MORE? Click here to see our Holden Commemorative Mural by Cam Scale and Sam Brooks.